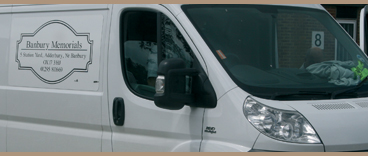 Banbury Memorials Ltd
5 Station Yard
Adderbury Nr. Banbury
OX17 3HJ

Tel: 01295 811669
Fax: 01295 811899
email: jacqui@banburymemorials.co.uk
Opening Times
8.00 – 4.30pm Monday to Friday
Closed at Weekends.
We welcome any visit or customer who wishes to enquire in person. However, although no appointment is needed, we advise it is always best to check prior to arrival, to ensure the right staff are available to tend to your enquiry.